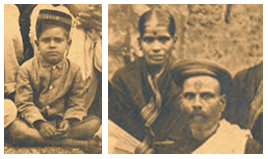 Born on 5th of September 1917 in Aalot village (district Dewas ), Madhya Pradesh. Youngest among three sisters and one brother he had a modest but caring upbringing. His father being an accountant in the service of one of the influential officers of Dewas royalty. Dinkar Rao was in the habit of recycling things of daily use, even paper and thread salvaged from grocery packages. Later using them for rough calculations and weaving small strings. Mother Anandi Bai, or happy woman, a thrifty housewife making do in husband's limited income, utilised every conceivable part of edible things to produce toothsome morsels. These practices were to have a profound influence on Vishnu in later life as a painter.

As a schoolboy Vishnu was a keen boy scout organizing threesome camps and outings with close friends Bachchu Salunkhe and Govind Zokarkar. Except for contact with bush and woods he thus came with, the young lad rarely manifested any outward affinity for painting he was to take seriously after schooling. After matriculation in 1934 he was sent to Indore school of Arts to study under the tutelage of D D Devlalikar. N S Bendre and M F Hussein were his seniors at the art school. Vishnu showed such proficiency at landscaping and portraiture that his teacher rarely bothered to correct him. He had mastered the simplicity of line at an early stage. Hussein is said to have hinted in an interview that inspiration for his bold lines came from Vishnu.
Before graduating from Mumbai's J J School of Arts with a government diploma, Vishnu was participating in all India painting contests. He studied in Indore and painted his entries for competitions in Dewas at night. Interestingly top prizes were always won by portraits painted hurriedly of impromptu models. (See Early Academic Works)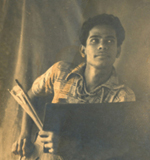 While still in a small town his powerful renderings earned him a name in the national art circle. As a result he was granted fellowship and invited by Calcutta Fine Arts Society as guest of honour. Society was then headed by Lady Ranu Mukherji, a close friend of Rabindranath Thakur. She was astonished to find a young artist behind mature works. Looking for better prospects Vishnu moved to Mumbai for a brief period where he was immediately engaged by Michael Brown, editor of 'Illustrated Weekly of India'. Crisis in the family brought him back to Indore. Persuasions of Babu Labhchand Chhajlani, a freedom fighter and politician cajoled him from venturing out of Indore again.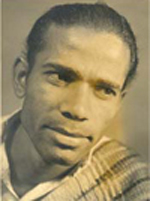 Vishnu worked with several newspapers and organizations including Jagran, a trade union and political set-ups, finally settling with Naidunia which was founded by Chhajlani. This mutually gainful association was to last his life time. Serving as an honorary artist Vishnu experimented incessantly with his medium. His finely carved and cheaply produced linocuts gave a visual appeal to a publication in not so well monetary condition. Illustrating fiction interestingly transformed his sketching to combine real life characters and make believe situations. (See Illustrations and Linocuts)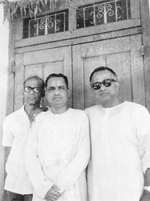 It was at Naidunia he met his closest friend Rahul Barpute, its versatile editor and spell binding orator. Within a short interval in 1948 he came across another charming person Kumar Gandharva, a Carnatic classical vocalist convalescing from tuberculosis. The three forged together a lasting bond of friendship, learning from each other and enriching the art form of other. They came to cast a dominating presence in the cultural scene of central India for next half a century.
In 1950s several painters of Indore came together to form 'Friday Group of Artists'. It was to be a platform for discussions and, of course, painting. It included Rahul Barpute, Vasant Sonalkar, Rathin Mitra, Chintaman Wankar, Tarachand and Vishnu. It did not survive for long but certainly planted a seed of change in Vishnu's mind. By this time he had moved to Indore and had been undertaking traveling expeditions. Some of his watercolours of Kumaon hills and Ranikhet were painted during this time. Rahul was often his travel companion. Together they visited the site of Chambal dam in excavation stage. It was during one such tour of Benaras he was addressed by an admirer as 'Guruji' meaning a teacher and the name stuck for life. (See Sketchbook)
1959 was to be turning point in Vishnu's life when he opened his studio for public view. Exhibits consisted of driftwood, twigs, leaves, dried fruit pods, plant roots and similar nondescript objects that were never considered art forms, at least by his contemporaries. It created a furor among local artists and Vishnu was criticized for taking undue liberty with 'Fine Arts'. Whole week long all through the duration of his show his home was to be a place for noisy discussions. Later Vishnu credited Mahatma Gandhi for the change in his point of view. The story goes that, once Mahatma was on a tour of Mysore where he was recommended to visit Jog falls. Gandhi countered that he had been viewing a natural fall, the rainfall, which precipitates from a much greater height. Gandhi's point lead Vishnu to think that brilliance of a painters work depends upon borrowed medium, whereas Nature is the true painter. This exhibition was to prove as his first station in the search for form. He relinquished traditional medium for Nature.
It was not until a few years when someone ran into Picasso's odd experiments. This Spanish artist indirectly endorsed Vishnu's new line of work. By now Vishnu had been teaching at the Fine Arts School of Indore that had noted impressionist D J Joshi as its head. Those were better days for the institution but Vishnu was neck deep in boredom. Educating unwilling pupils was a great distraction for him. In 1966 he broke loose from all institutional regimentation of time. Financially he was never better off but found Rahul Barpute and Kumar Gandharva's company highly inspiring, which made for it. Drawing sustenance from Naidunia and freelance work he soldiered on enthusiastically, involving himself ever more with nature. His range of materials spread beyond driftwood and twigs to all things organic, natural or man-made which included from plywood to algae growing in stagnant water, cobwebs and damp spots appearing on walls in wet weather. Vishnu saw lively form where others viewed those objects as inanimate and waste. Even froth caused by disinfectant on floor beckoned him, and he took its impression on paper. (See Quest for Form and Art in Waste)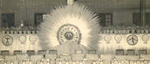 Vishnu's early experiments included using products of village craftsmen in decoration. Site of brooms, baskets and mat rolls looked alarming to the city people but he used these to decorate national stadium in Delhi and received high praise from Prime Minister Jawaharlal Nehru.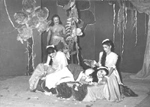 Theatre provided Vishnu a platform to test his medium. In mid-fifties along with Baba Dike, Rahul Barpute and classical vocalist Suman Dandekar, he was instrumental in the inception of Natya-Bharati, a drama troupe. He created elaborate impressionist backdrops with rags and seemingly bland things. Colonel Hemchandra Gupte, director of Song and Drama division, Delhi, once quipped that- whereas others need truck (full of property) to create stage, he (Vishnu) does so with a trunk. Keen observer in Vishnu portrayed quite a few interesting characters on stage, he had seen as a painter in life.
Vishnu took about a decade to evolve his revolutionary ideas and then it was time to extend them to the unsuspecting viewers. Exhibition at Delhi's AIFACS gallery in 1971 was not a success by any standard. C D Deshmukh, former union finance minister, bought the only frame which hung at Delhi's India International Center for nearly three decades. Exhibition a few years later in 1977 at Mumbai's Jehangeer gallery, inaugurated by Kumar Gandharva was an instant success. And so was the exhibition in Calcutta in 1979. He took every opportunity to impart vision to the untrained eyes of commoners, focusing on children and parents and teachers for the reason that young ones have untainted vision and aforesaid grown-ups are in a position to influence them.
Philanthropist Baba Amte had a profound influence on Vishnu whom he met in late sixties. He held in high esteem Baba's efforts to rehabilitate fractured leprosy patients as confident human beings useful to the society. He viewed a parallelism in his work of salvaging waste material and restoring them as objects of art.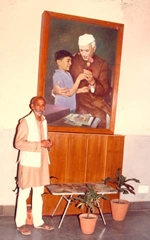 In mid-seventies Vishnu ran a popular art column 'Khel-Khel mein' for children. He continued it for nearly two years, introducing his experiments and discoveries to readers that included youngsters as well as elderly people. An important outcome of it was to see alphabets in twigs and learning to draw from alphabets. The column was later edited and published in book form, now available in National Book Trust outlets. Translated and brought out in Marathi it is also available with Bharat Gyan Vigyan Samiti.
Come eighties and Vishnu nearly stopped painting which he had been doing sporadically all this time. Important commissions during this period include 10 full size panels of 'Streeshakti' (Women empowerment) series executed in 1969, on show at Kasturbagram, Indore, and several portraits of war heroes and statesmen (See Portraiture and Panels). Art education became his full time mission. Vishnu travelled extensively to give talks and demonstrations notwithstanding weather and mode of transportation available, sometimes on bicycle pillion to interior rural areas. He enjoyed tremendous rapport with his audience and three short films are made on his lucid presentations. They can be viewed on You Tube.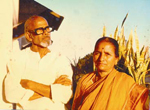 In 1996 he braved a cardiac stroke and a hip-bone fracture in 1998, latter drastically restricting his movements, which were life-blood to him. Bereaved of his wife Shalini in 1991 and close associates Kumar Gandharva, Rahul Barpute and Baba Dike in a decade he became silent and gloomy. Curious visitors still managed to evoke the artist-teacher in him. In July of 2000, during the meeting of Friday Club, his student-friend Chandu Nafde had revived, he suffered another heart attack, never to recover. He passed away under sedation in the forenoon the next day, 30th of July. Honouring his wishes his body could not be buried under a tree but his remains were consigned to earth on the Pitru-Parvat and a Paras-Peepul sapling planted over it. At his home at Gauraiya Kunj he rests under a mulberry bush.

Ten years after Vishnu Chinchalkar passed away, a British sculptor John Doubleday arrived in Indore on a three month sabbatical leave. While sculpting a head of Vishnu he realized that a much interesting old man his late son Dr Edwin had met years ago in Indore was none other than Vishnu himself.